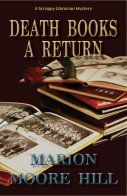 Death Books a Return
Sept, 2008 Trade Paper Release
---
Praise for Death Books a Return
"The mystery is cleverly presented, and the characters are endearing . . . A good choice for libraries with avid mystery readers and Plains history buffs."
Library Journal
"This is a book you'll like."
The Oklahoman
"This is an extremely unusual book. There is much more substance than is commonly found in a cozy mystery. The whole question of race relations is a vital part of the story. The author does an excellent job of depicting small town life as it was and is. This is done with a skill and depth of understanding that make this a winner, with its complex plot and excellent character delineation."
ILoveaMystery.com
"DEATH BOOKS A RETURN is an engaging, sharply drawn story with superb emotional depth and a gutsy heroine who is intelligent, endearing, and a librarian to boot. One terrific cozy. Marion Hill is a writer to watch."
—Julia Spencer-Fleming, Edgar finalist and author of I SHALL NOT WANT
"Hill's latest mystery is graced by a spunky, intelligent heroine, sensitive handling of small town politics, and a vivid but spare writing style. A great read."
—Sarah Wisseman, author of The Dead Sea Codex
"In DEATH BOOKS A RETURN, a new look at an old, unsolved hate-crime turns a town into turmoil and dramatically changes the lives of many of its inhabitants. An absorbing—and rewarding read!"
—Robin Hathaway, author of the Dr. Fenimore and Jo Banks series.
Summary
While researching for a local history, public librarian Juanita Wills comes across the 1959 murder of a black teenager, Luther Dunlap, in her then all-white town—a killing that has never been solved. Determined to include this shameful episode in her history of Wyndham, Oklahoma, she tries to interview anyone who can shed light on the fifty-year-old racist incident. But no one wants to dig up the painful past, especially the buried secrets and broken love affairs that once entwined the citizens of Wyndham and the neighboring all-black village of Bryson's Corner.
When her only witness is poisoned, Juanita fears that her questions have led to his death. Her boyfriend, Detective Lieutenant Wayne Cleary, warns her to let sleeping dogs lie, but the more she learns about Luther, the charmer who was killed on the Wyndham High School track, the more determined she is to bring his killer to justice. Frustrated on all sides, Juanita must live up to her scrappy reputation, risking her own life, to see that a heartless murderer is finally exposed.
DEATH BOOKS A RETURN stretches the definition of a cozy mystery by treating the harsh issue of racism, yet it respects the sensibilities of cozy readers by employing the filter of the past. The unsolved murder of a black teenager, dating back to 1959, inspires an indomitable spirit to seek out the truth, in spite of the wounds she re-opens, ultimately leading to resolution and healing for an entire community. Ms. Hill handles her subject with great sensitivity, not dodging the questions we all must ask ourselves or the minefields of contemporary race relations. At the same time, she treats small town politics and human foibles with wisdom and a wry humor that offer a welcome, true-to-life balance to her more serious story.
-- READ AN EXCERPT --
---
Copyright 2008 Pemberley Press. All rights reserved.
Last updated: 4 August 2008
Comments and suggestions
URL: http://www.pemberleypress.com/dbooks.htm